Sustainable Garment Decoration
Our garments are designed to be the most sustainable blank canvas for your brand! Our products have been testing heavily through the most widely used print techniques on the market.

We've done a bit of research on the best, most sustainable garment decoration techniques. Below are our recommendations. We are happy to help with any questions.

Email sales@everywhereapparel.com for one-on-one support.

View Our Featured Projects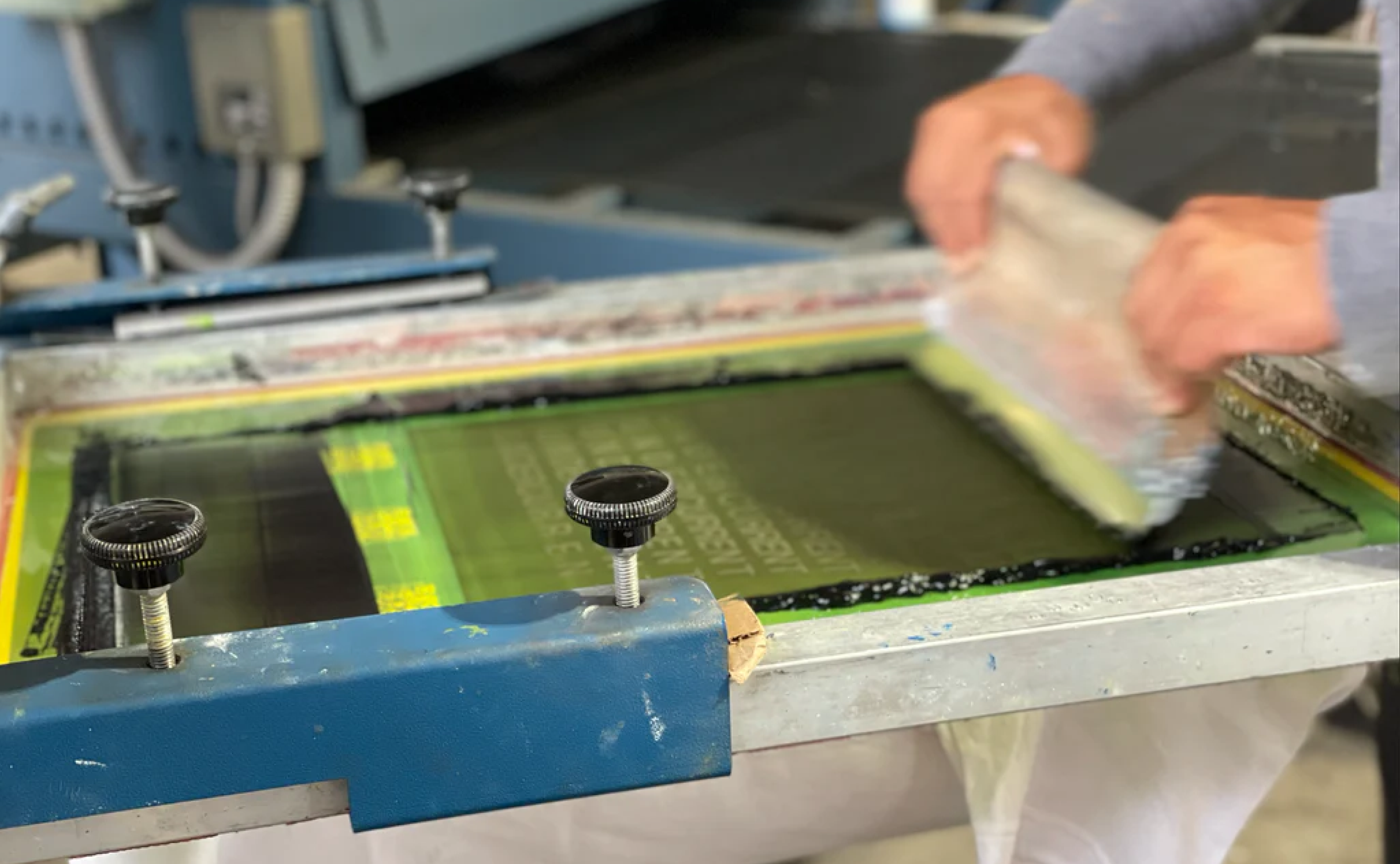 Our High Quality, Eco-friendly Screenprinting & Decoration Capabilities
PVC-Free Screenprinting
PVC-Free screenprinting inks are considered safe and effective alternatives to conventional plastisol. Most eco-friendly screenprinters have these inks in stock, and they will print exactly like traditional plastisol inks, just without as many toxic chemicals.
Waterbased Screenprinting
Waterbased screenprinting is considered a more eco-friendly alternative to conventional plastisol screenprinting. Most screenprinting shops today offer waterbased printing, and we recommend using waterbased inks on light colored garments. On dark garments, this method works equally as well, however the process requires a chemical discharge to cancel out the color of the fabric fibers.

On any fabric, not just 100% recycled, the discharge chemicals used with waterbased screenprinting on dark colored garments can bring out some inconsistencies in the base fiber of the fabric. This chemical discharge is not ideal from a cleaning and disposal perspective, which is why we typically recommend using waterbased inks primarly on white or light colored garments.
Air-Ink Screenprinting
AIR-INK is a sustainable ink option produced from materials generated from air pollution. The process of the ink's creation offsets carbon and helps to remove pollutants, heavy metals, and toxins from the air. Air-Ink is currently offered in black.
Algae Ink Screenprinting
Algae Ink is an eco-friendly, renewable ink option that reduces carbon and is made from algae waste. It is currently offered in black.
Direct to Garment Screenprinting
Direct to Garment printing has become a favorite for many decorated apparel brands today, as it requires very low volumes and can be used for one-off art prints and samples. Direct to Garment printers use waterbased inks, and no discharge chemicals are used on dark garments. However, a pretreat is required on dark color garments that sits on top of the fabric. This pretreat will wash off when the shirt is washed and can contaminate water this way, however to a lesser degree than waterbased printing discharge.
Embroidery
Embroidery works well on all of our materials! We recommend asking your embroiderer to use 100% cotton threads as they are biodegradable at end of life.